GW2 has had the mother of all updates. The expansion, Hearth of Thorns, has been released and alongside that the free base game has had a major update.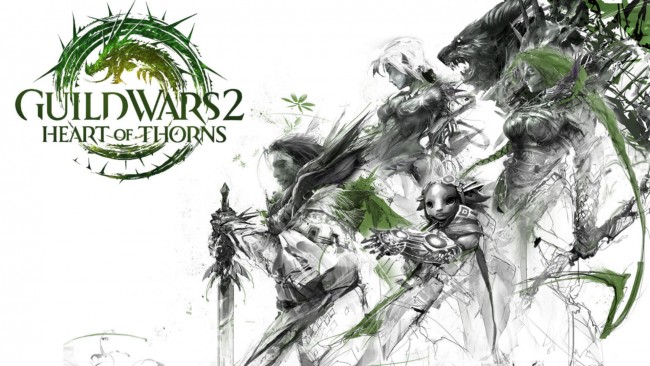 I've not brought the Heart of Thorns expansion personally. I've only just been getting in to GW2 again recently, but the stuff on offer in the expansion didn't appeal to me all that much. That's where I stand at the moment, but it doesn't mean to say that I won't ever buy it though!
Why I Game has written up a great post about the fun he's been having since the expansion released. I'd recommend a read for the ins and outs of how the expansion plays!
All in all, the multiple releases have definitely gone down incredibly successfully when you look at it technically. It also coincided with the seasonal Halloween stuff being dropped, which in itself is a big patch. That there haven't been any major bugs or crashes is a major technical success for the developers.
I've not purchased the expansion though, so I've been playing in the good ol' free to play base game. Here's my perspective on the changes that'll affect me.
One of the first things that really caught my attention was the reduction in Dungeon rewards. They've reduced the experience and gold gained from completing a dungeon by 1/3, when dungeons had already been hit by previous nerfs. I saw some conspiracy theories out there that this is all part of a scheme from Arena Net to phase out dungeons. Whilst I'm not going to go fully tin-foil hat on this change, I think it will inevitably lead to the numbers of players doing dungeons phasing out into nothingness, which is a shame – I've always enjoyed the GW2 dungeons.
Player versus Player got some very overdue attention as well. There's a league, a new reward structure and a whole new gameplay mode. Sadly though, the PvP scene on GW2 is long dead, and I very much doubt, even if these changes are really good in practice (I admittedly haven't tried them out personally), that there's much chance of resurrecting it.
For me, the real big changes have been with World versus World. I've basically become a wvw'er since coming back to GW2. The borderlands were always favourite maps of mine, but they've now been replaced with 3 enormous maps themed on the new expansion.
I've got a few concerns with the new borderlands maps. Firstly, there's a lot of PvE stuff thrown in there, some of which is even expansion specific. Why put PvE stuff that's designed for people with the expansion into the free to play WvW? That doesn't make too much sense to me.
I'm also concerned by the size of the maps – they are absolutely huge. I play on Seafarer's Rest – a sever at the top end of the European rankings. As far as servers go, we're not the busiest, but we fill WvW better than the majority of servers. In the time I've played on the new borderlands maps over the past two days we were rattling around and hardly ever saw the enemies. That's not good for WvW! I worry that lower tiered servers will struggle to put a serious forces into even one of the new borderlands, which will end up skewing the rankings further towards the more populated servers instead of the more skilful servers.
That aside, I do quite like the design of the new borderlands. They look different from anything else I've seen in GW2, but on the whole I like it. I just wished they were smaller, and with less PvE clutter!
My favourite WvW map is the Edge of the Mists. It's not very popular with most hardcore wvw'ers, but I like the variety of it. As the Edge of the Mists is the only map where players are drawn from a jumble of all the servers, it's almost always guaranteed to have people in it and there'll almost always be a different experience when you play. Let's face it, hardcore WvW can sometimes be incredibly dull, and I find EOTM far less so personally.
EOTM has been hit with a major nerf in this update. The experience and loot drops have been reduced massively, which to be fair they were disproportionately higher than the other WvW maps. My main problem with this, though, is that EOTM was also usually quite busy with people levelling characters up, so I'm worried that this nerf will drive EOTM player numbers right down. Ultimately though, I really just wished that rather than hammering the EOTM players with a reward nerf, they'd just upped the rewards for the other WvW maps.
Arena Net have a strong tendency to nerf to balance gameplay – and they've done it both with dungeons and the EOTM with this update. I understand the technical need, but I really think as far as gameplay goes it would have been better to bump the rewards up elsewhere rather than punishing a certain group of players.
All in all, I'm a bit disappointed so far by the changes made by the update to the free to play game.
Most of all, I've been surprised to see that next to none of the players I used to play with have come back. None of the three guilds I was a member of have any active members other than me any more (and one was once a pretty active one of 40/50 people). My friends list remains a sea of greyed out names. That's sad, but it's also a way that the expansion hasn't been successful. So far, old players who have been leaving in their droves previously haven't been enticed back by any of these changes. It's still very early days to judge that, but so far it's a little concerning.
Digital Salad – lifeasadigitalsalad.wordpress.com